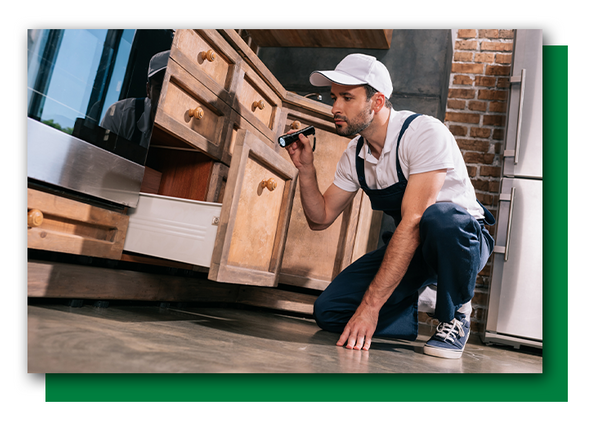 The Effortless Solution To Pest Control
Pest Services Company in Howard County takes a very serious issue — pest infestations — and provides businesses and homeowners with the solutions they need, while delivering peace of mind knowing the pest problem has been handled.
Make the right choice and lay those pests to rest with Pest Services Company!
Professional Pest Control Services In Howard County

Pest Control

Termite Control

Bed Bug Removal

Commercial Pest Services

Wildlife Removal
Rapid & Affordable Pest Control Solutions
When you have a pest infestation, time is of the essence — you need to quickly address the problem, while taking preventative measures to ensure there is no next time!
Pest Services Company in Howard Company tackles your pest and wildlife problems head-on, delivering the results you need at budget-friendly rates. When you partner with us, you'll receive our comprehensive services including pest inspections, treatments, and prevention measures for your Howard County home or business.
When you partner with Pest Services Company, you'll always receive:
Licensed, Insured, Bonded (DC, MD, & VA) Professionals
Vetted Employees
Advanced Training for Pest Specialists
Dependable and Reliable Services
Quality Solutions
Protect your property from invaders and connect with Pest Services Company in Howard County today!
Pest Control Howard County
Pests are invaders that disrupt your Howard home and business, not only doing physical damage, but also impacting your health. Combat termites, bed bugs, wasps, and more with professional pest control services and expert exterminators that grant you peace of mind knowing the pests are gone once and for all!
Work with Howard County's best — Pest Services Company!
Termite Control Howard County
Don't put your property at risk by ignoring a termite infestation, and mitigate them with termite control from Pest Services Company in Howard County.
Termites can be stealthy with the proper food and water source. If you have an old tree stump or keep your firewood directly on the ground, these are just some of the ways termites make their way into your home!
Get the protection you need with Pest Services Company today!
Bed Bug Removal Howard County
Bed bugs are one of the most adaptable and hardy pests — they can survive in just about any adverse environment, making them extremely hard to control and mitigate on your own. Pest Services Company has years of experience treating bed bug infestations to help you regain a safe and healthy home or business.
Get professional bed bug control for your Howard County property, and stop the spread of bed bugs!
Commercial Pest Services Howard County
Health and safety standards are closely monitored not only by the city and state, but by your loyal customers — safeguard your business from pests with commercial pest control services in Howard County.
A termite here or a bed bug there is costly to your business, and unaddressed pest problems easily disturb everyday business. Pest Services Company has a pest control service plan that meets your needs and delivers the results that keeps your establishment pest-free. From monthly to quarterly services and everything in-between, partner with our Howard County pest control experts today!
Wildlife Removal Howard County
From racoons and squirrels to bats and birds, Pest Services Company provides humane and professional wildlife removal services for your home or business.
Get guaranteed results and protect your property from damage that animals can cause.
Reach out and schedule with Pest Services in Howard County today!